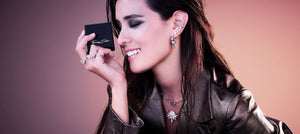 Earn points on all of your purchases, or any other activity outlined above. To join, create an account with us and start earning points.
Reach the next tier by spending more each year or by any other activity outlined above to unlock better rewards. The tier status will last 1 year from the date you earned it.
Here are some of the ways to earn points:
- Sign up for an account
- Make a purchase
- Like us on Facebook and/or Instagram
- Write a review on a recent purchase
Here is how to redeem your points:
1. Click the "Unlock Rewards" popup on the bottom left
2. Click on the "Redeem THOMAS SABO Points" button and then the "Redeem" button . Make sure you have logged in and earned points before redeeming.
3. You can adjust the slider to choose how many points you would like to redeem. Then click redeem.
4. A unique discount code will pop up. Copy this discount code and paste it into the discount code prompt on checkout. You will also receive an email with the discount code in case you lose it. Please also note that discount codes cannot be used to pay for shipping or gift cards. Codes are not valid during a sale period.
Points will be rewarded to your account when your order is fulfilled (dispatched from our warehouse).
TS Points will expire after 12 months of inactivity for customers who have not earned or redeemed any points.
Returning for a refund will deduct from the point balance.
*Offer not valid on shipping fees, gift cards or past purchases. THOMAS SABO reserves the right to change or terminate this loyalty program offer at any time and without prior notice. Cash Rewards cannot be split across multiple orders.
No. Unfortunately each cash reward you receive can only be used once per transaction. To ensure you redeem the full Cash Reward amount, items equal to the value of the Cash Reward will need to be added to cart.
All Cash Rewards will have a 6 month expiry.
*Prizes are non-transferable and cannot be redeemed for cash. Winners will be notified by email shortly after entries close for each Entry Period. If for any reason a winner does not claim their prize within 3 months of the winner being announced, then the prize will be forfeited. Any winner whose prize has been forfeited shall not be entitled to any payment or compensation from THOMAS SABO.